The housing market in the United States has been on a steady climb in recent years. Recent years have been the highest-grossing years in real estate history, thanks to the millennial generation and their earning power. With rental property values on the rise, we thought it would be interesting to take a look at the most recent statistics.
Interesting Statistics About Rental Property
We dug into the data and found some interesting trends in rental properties in the United States. The following is a list of the most surprising statistics we found.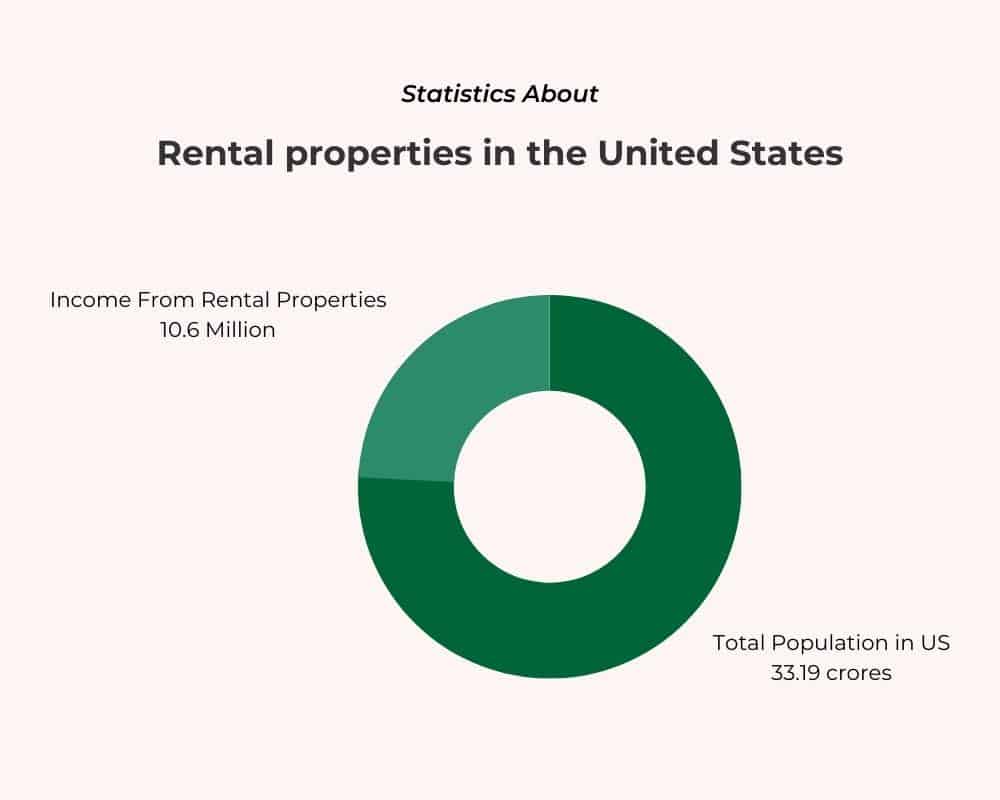 10.6 Million People Are Generating Income From Rental Properties
The Internal Revenue Service (IRS) has released data on American taxpayers' income for the year. The findings show that about 7.1% of 1040 filers among U.S. taxpayers are landlords.
Approximately 10.6 million Americans filed their taxes and declared rental income.
In addition, they noted income earned from about 17.7 million properties.
Source: Internal Revenue Service
Half Of The Landlords Outsource The Management Of Their Properties
You may be surprised to learn that only 44% of landlords manage the properties they own. The remaining 56% outsource property management to a third party or hire someone to handle it for them.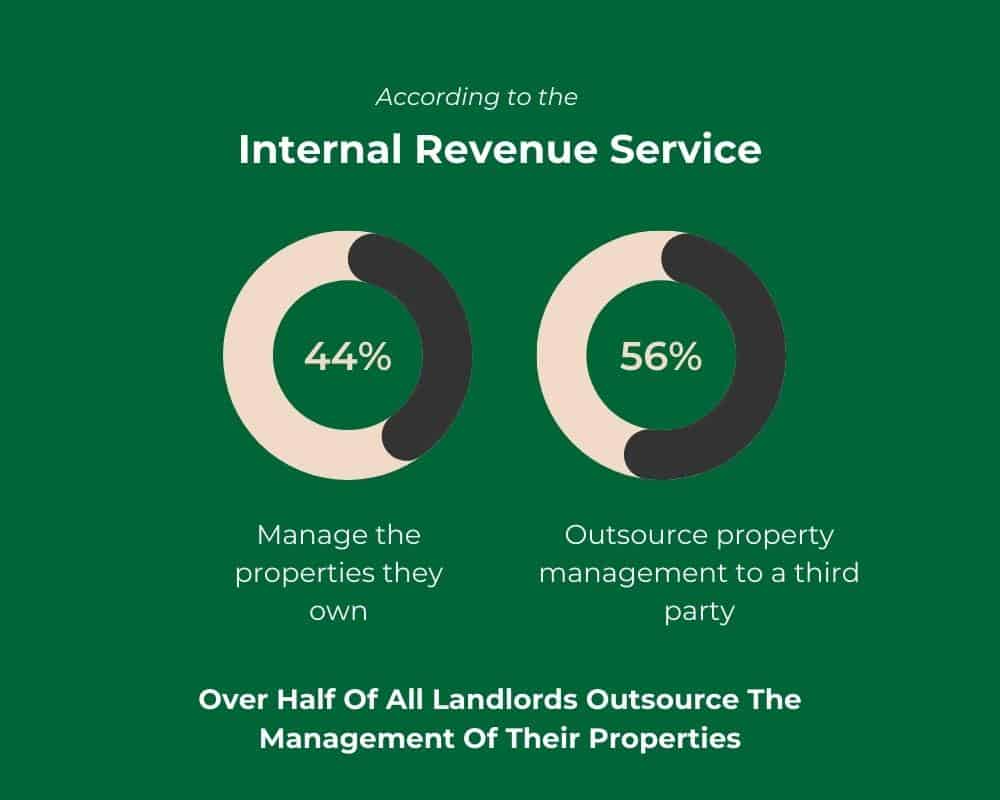 When it comes to renting, most landlords have three properties on average. Of those who own the units, about half own and manage the property themselves, while the other half hire someone else to handle the management side of things.
Source: My Smart Move
There Was A 16% Increase In Rents In The Year 2021
In the aftermath of the pandemic, landlords raised rents quickly. On average, prices increased by 16% between January 2021 and December 2021.
People became homeless with no option to leave the city. Therefore, they had to find places within its confines where rent was affordable.
That led to an increase in demand for housing and a decrease in supply, which caused rents to rise sharply.
Source: PEW Trust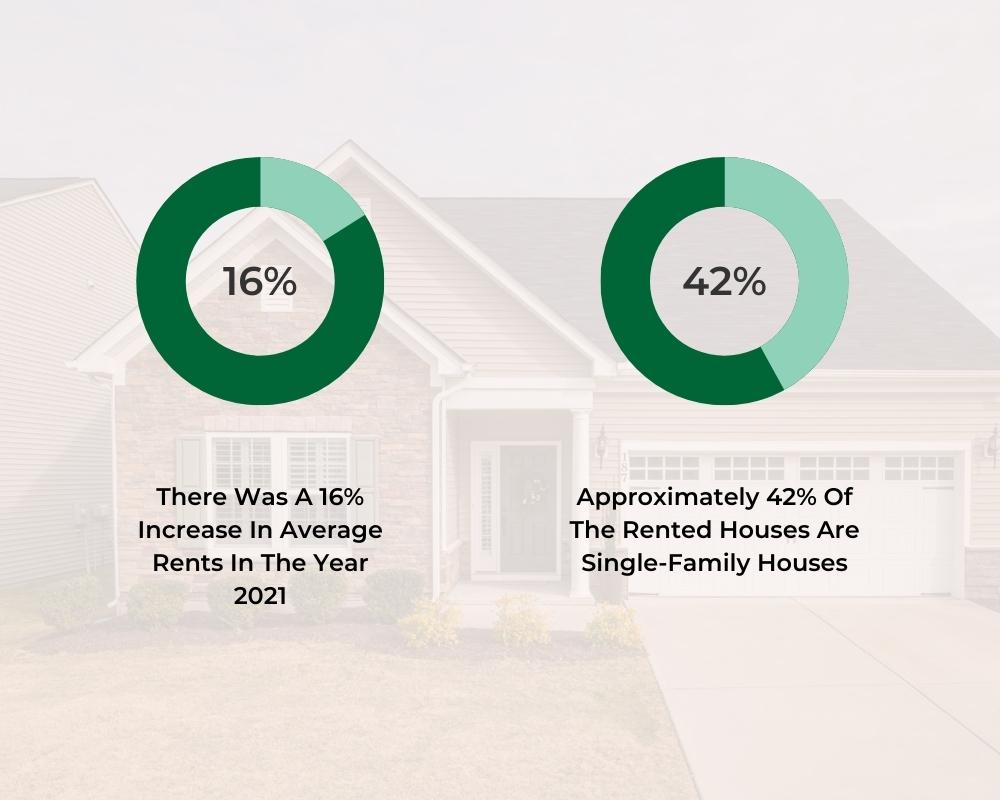 Approximately 42% Of The Rented Houses Are Single-Family Houses
According to the Statista website, there are 44 million housing units in the United States that are rented. Approximately 41% of these homes are single-family houses.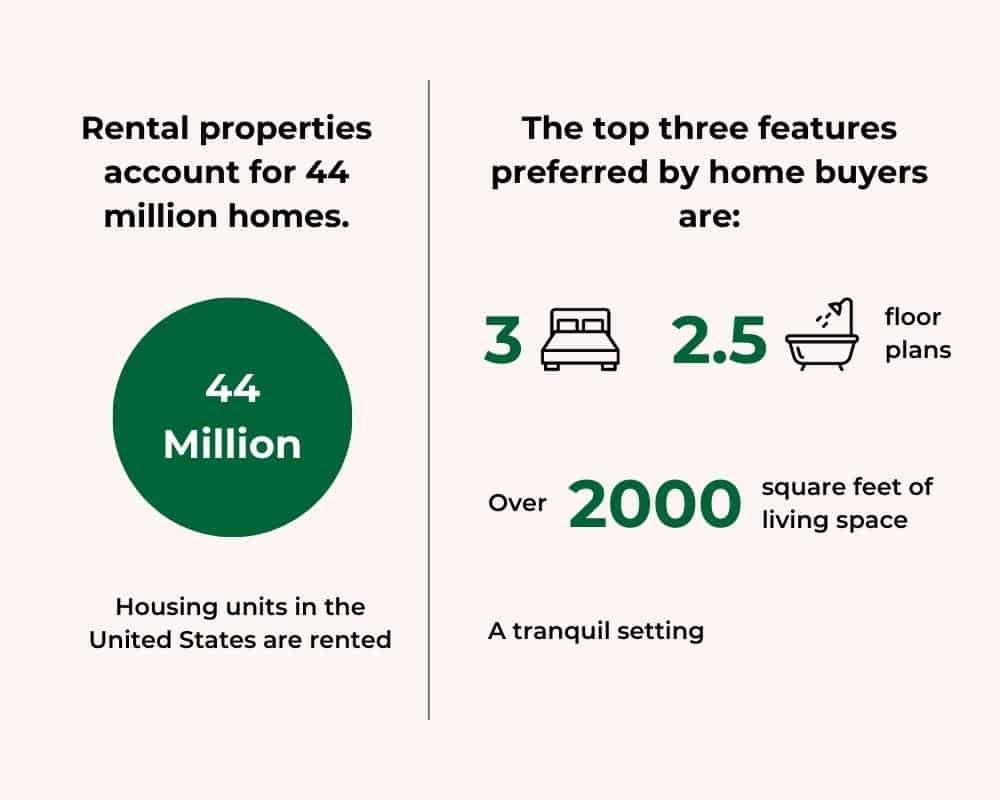 Post-Pandemic, Versatile Homes Are In High Demand
According to a recent report by Realtor. Com website report, homes with more space and quiet locations are the preferred choices for homebuyers.
The top three features preferred by homebuyers are:
3-bed and 2.5-bath floor plans

Over 2,000 square feet of living space

A tranquil setting
Source: Realtor.com Report
Lawton, Oklahoma, The Cheapest City For Renters In 2021
Apartmentguide, a website dedicated to helping people find apartments, ranked Lawton as the cheapest city for renters. According to a 2021 study, Lawton, Oklahoma, is the preferred rental for renters with limited funds.
Source: Apartment Guide
Tenants Demand Safety And Comfort
Among the must-haves for a successful single-family rental property, HomeUnion identifies the following:
A good location

The home must smell and feel new

There must be parking available for tenants

Central air conditioning is required

There should be laundry facilities in the home

Storage space for tenants' belongings

The outside space needs to be safe and secure

Pets are allowed with certain requirements

All homes must have central air conditioning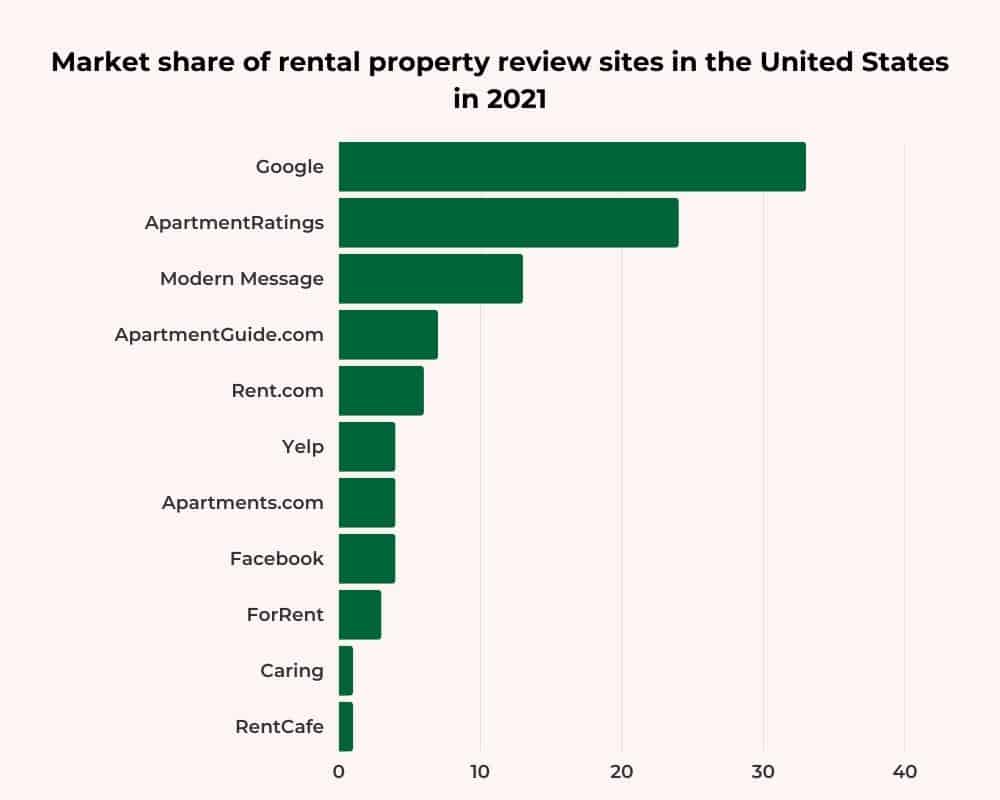 Source: Home Union
13.32% Of Millennial Renters Plan To Rent Forever
In the United States, 13.32% of millennial renters say they will always rent because they cannot afford to buy a home. This trend has been ongoing for several years. It will continue, especially after the Pandemic.
According to real estate experts, this is due to several factors:
High Student Debt

Low starting salaries for younger workers

Declining Global Economy after Covid Lockdowns and uncertainty
It is also a fact that older generations are still paying off their student loans or mortgages.
Source: Iproperty Management
Real Estate Rental Employs 1.7 Million People
Real estate rental and leasing is a large industry with a significant impact on the American economy.
It directly employs at least 1.757 million people, with many opportunities for indirect and passive income for others. The total employment due to real estate rental and leasing is helping to support the GDP.
Source: Iproperty Management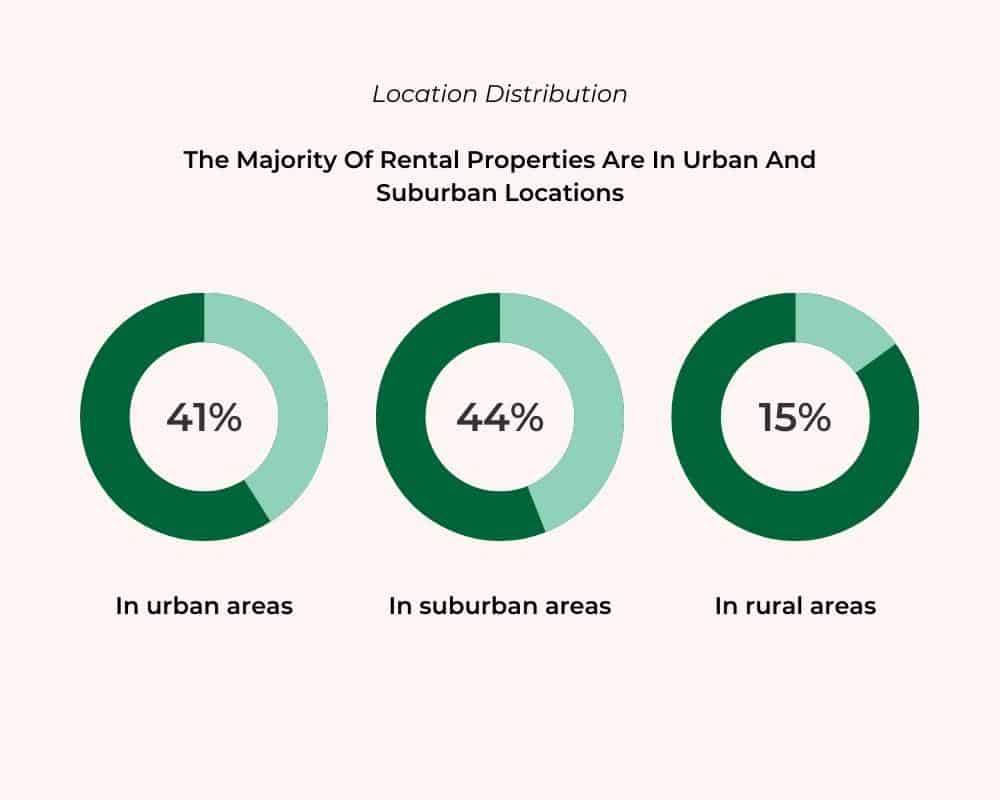 The Majority Of Rental Properties Are In Urban And Suburban Locations
Rental properties are a major part of the American real estate market that come in all shapes and sizes. Approximately 41% of U.S. rental properties are in urban areas. 44% are in suburban areas, and the rest 15% are in rural areas.
Source: Iproperty Management
Top 5 Most Expensive Metro Cities To Rent In
If you are searching for a place to rent, you should research the market trends. Some cities are the most expensive in comparison to others.
According to CNBC, the top five most expensive metropolitan real estate markets during the first half of 2022 were:
Los Angeles; Long Beach, California: $4,664

San Diego; Carlsbad, California: $4,617

Bridgeport, Connecticut: $4,352

San Jose, California: $4,294

Oxnard, California: $4,259
Source: CNBC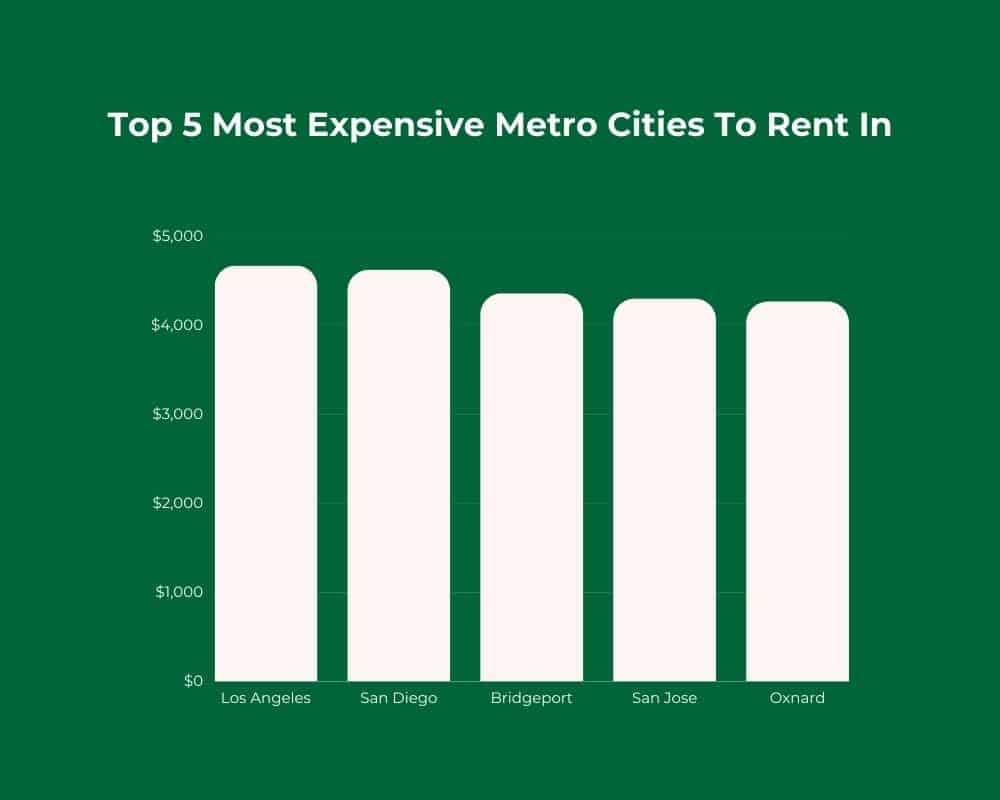 The United States Is Home To 20% Of The World's Vacation Rental Properties
It's no secret that the United States is a popular destination for vacationers, and it's also one of the major vacation rental markets in the world. In 2018, over 23,000 companies were operating in this field. This number represents 20% of all such companies globally—and that's not even including Airbnb!
According to Hostfully, VRMA, the United States is home to 20% of the world's vacation rental properties. It is good news for you if you own a property. It is never too late to think about how to capitalize on this growing demand for rentals.
Source: Comfy Living
Over 20% Of Us Renter Households Are Comprised Of Immigrants
A recent study from Housing Wire, Harvard, has shown that immigrants account for nearly 20% of all renters in the US. It means that there are a lot of people who are looking for housing but are not able to find it. That could be because they don't have enough money for a down payment or have other document-related issues.
Since the pandemic, this trend has become more common. It means that immigrants are a vital part of the housing market. However, they are often at risk when it comes to housing discrimination.
Source: ​​Comfy Living
Conclusion
The number of rentals in the United States has grown significantly over the last decade. Post-pandemic, most people don't have as much money saved up for retirement as they would like, so sharing your home is becoming an option favored by many older homeowners.
By sharing your home with a renter, you will still be able to enjoy your house and all its conveniences without having to incur the added cost of maintaining it yourself.
The above-mentioned rental property statistics are a testament to the fact that renting is becoming more popular. We hope this article will help you understand why so many Americans have decided to rent their properties instead of selling them.
Do not forget to share your feedback on this article. Also, tell us any personal experiences you may have had with renting out your home.
References
https://www.irs.gov/statistics/soi-tax-stats-individual-income-tax-returns-line-item-estimates-publication-4801
https://www.mysmartmove.com/SmartMove/blog/todays-landlord-characteristics-infographic.page
https://www.pewtrusts.org/en/research-and-analysis/blogs/stateline/2022/02/01/evictions-rise-to-pre-pandemic-levels 
https://www.statista.com/statistics/743422/share-of-residents-who-are-renting-usa-by-structure-type/
https://learn.roofstock.com/blog/real-estate-facts
https://www.apartmentguide.com/blog/cheapest-cities-for-renters-in-america/ 
https://www.homeunion.com/nine-must-haves-for-a-successful-single-family-rental/ 
https://ipropertymanagement.com/research/renting-statistics#stats 
https://ipropertymanagement.com/research/renting-statistics#housing
https://www.cnbc.com/2022/08/02/rent-prices-are-soaring-in-these-5-metros-what-to-know-before-moving-.html 
https://comfyliving.net/rental-statistics/